Hi-Lyte Electrolyte Powder - Pink Lemonade
Regular price

$44.99

Sale price

$29.96

Unit price

per
Over 75% of people experience daily dehydration. An even greater percentage lack sufficient trace minerals that powder the body's electrical system at a cellular level. Hi-Lyte PRO helps to keep you rehydrated and recover fast, without the unnecessary sugar, carbs, and maltodextrin that are added to most electrolyte drinks. Designed to address key nutrient deficiencies in the modern diet and includes a broad spectrum of trace minerals, vitamins, and nutrients to help you perform at your best
Please Note: Labels may vary.
Who is Hi-Lyte Electrolyte Powder - Pink Lemonade for?

Hi-Lyte electrolyte powder is perfect for people who prefer natural products and need to supplement electrolytes due to exercise, heat, travel or even a late-night out! Hi-Lyte's clean natural formula was designed to work with a low carb, keto, vegan or paleo diet. Hi-Lyte's hydration amplifying formula has the same electrolyte sodium as 2-3 sports drinks with more than 10x the potassium to beat muscle cramps and help your muscles recover faster. Hi-Lyte has no sugar, calories, artificial sweeteners, colors, or flavors.
What are the benefits of Hi-Lyte Electrolyte Powder - Pink Lemonade?

Replace electrolytes and vitamins lost during activity
Zero sugar, zero calories, zero carbs, no maltodextrin, gluten-free, caffeine-free
Natural sea salt, trace minerals, vitamins and nutrients to feel your best
Keto, Low Carb, Paleo & Vegan friendly electrolyte powder

What are the Ingredients in Hi-Lyte Electrolyte Powder - Pink Lemonade?

Vitamin C, Biotin, Niacin, Pantothenic Acid, Calcium, Vitamin B6, Vitamin B12, Zinc, Selenium, Manganese, Chloride, Sodium, Potassium
How do I use Hi-Lyte Electrolyte Powder - Pink Lemonade?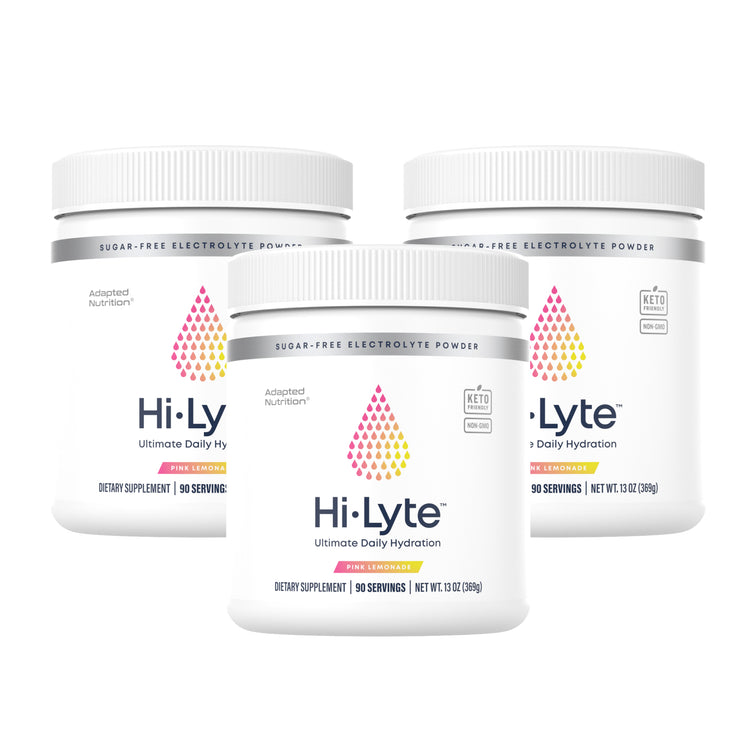 PRODUCT REVIEWS
Customers Love Adapted Nutrition
Customer Reviews
04/07/2022
Carol L.

United States
Great skin aide.
My dried out skin is getting much better with its use. I love the taste.
Perfect for me
Before I started using this product I had a hard time getting my daily water intake due to medical conditions. My nutritionist okay'd this to add to my water to help with water intake. I also have several severe food intolerances and allergies and it's always hard to get the right vitamins and nutrients my body needs. Now I'm able to get both my water intake and the right nutrients my body needs. I love this product!
Great hydration
I heard about hydration items on the web from a guy who used it for afib. It was worth a try to get my heart to quit acting up - the super expensive and nasty med I had been taking did not work and it also ruined my skin and reacted with every vitamin and skin supplement and made clots on my hands. I heard the head man was just arrested. Good. My hands looked like chicken feet - wrinkled and with large blue veins. My arms were heavily wrinkled too. I took your supplement 1/2 in AM (1/4 teaspoon in 8 oz water) and 1/2 in PM. My skin is getting much better and the veins are not as raised. I tested my heart before I took the first cup - I had the erratic heartbeat. Then slowly took all the first cup and retested later - no erratic heartbeat. So - no erratic heartbeat and improved my damaged skin. I know you did not want this type of response, but I think you need to know that it is good for many things. Also, I love the taste of lemonade. I will keep using this. Many thanks.
Stronger flavor
The flavor could be stronger for me. My potassium levels were low and now are back to normal drinking 4 servings a day.
Great product!
Before using this product, I was always dehydrated and also had trouble staying asleep. After only just a couple of days, I've had the best sleep and I think it is due to the magnesium content in it. And the rehydration was immediate!
It works well
It works well. It taste solid. I drink it almost everyday