Hi-Lyte Electrolyte Powder - Raspberry
Regular price

$44.99

Sale price

$29.96

Unit price

per
Over 75% of people experience daily dehydration. An even greater percentage lack sufficient trace minerals that powder the body's electrical system at a cellular level. Hi-Lyte PRO helps to keep you rehydrated and recover fast, without the unnecessary sugar, carbs, and  maltodextrin that are added to most electrolyte drinks. Designed to address key nutrient deficiencies in the modern diet and includes a broad spectrum of trace minerals, vitamins and nutrients to help you perform at your best
Please Note: Labels may vary.
Who is Hi-Lyte Electrolyte Powder - Raspberry for?

Hi-Lyte electrolyte powder is perfect for people who prefer natural products and need to supplement electrolytes due to exercise, heat, travel or even a late-night out! Hi-Lyte's clean natural formula was designed to work with a low carb, keto, vegan or paleo diet. Hi-Lyte's hydration amplifying formula has the same electrolyte sodium as 2-3 sports drinks with more than 10x the potassium to beat muscle cramps and help your muscles recover faster. Hi-Lyte has no sugar, calories,  artificial sweeteners, colors, or flavors. 
What are the benefits of Hi-Lyte Electrolyte Powder - Raspberry?

Replace electrolytes and vitamins lost during activity
Zero sugar, zero calories, zero carbs, no maltodextrin, gluten-free, caffeine-free
Natural sea salt, trace minerals, vitamins and nutrients to feel your best
Keto, Low Carb, Paleo & Vegan friendly electrolyte powder
What are the Ingredients in Hi-Lyte Electrolyte Powder - Raspberry?

Vitamin C, Biotin, Niacin, Pantothenic Acid, Calcium, Vitamin B6, Vitamin B12, Zinc, Selenium, Manganese, Chloride, Sodium, Potassium
How do I use Hi-Lyte Electrolyte Powder - Raspberry?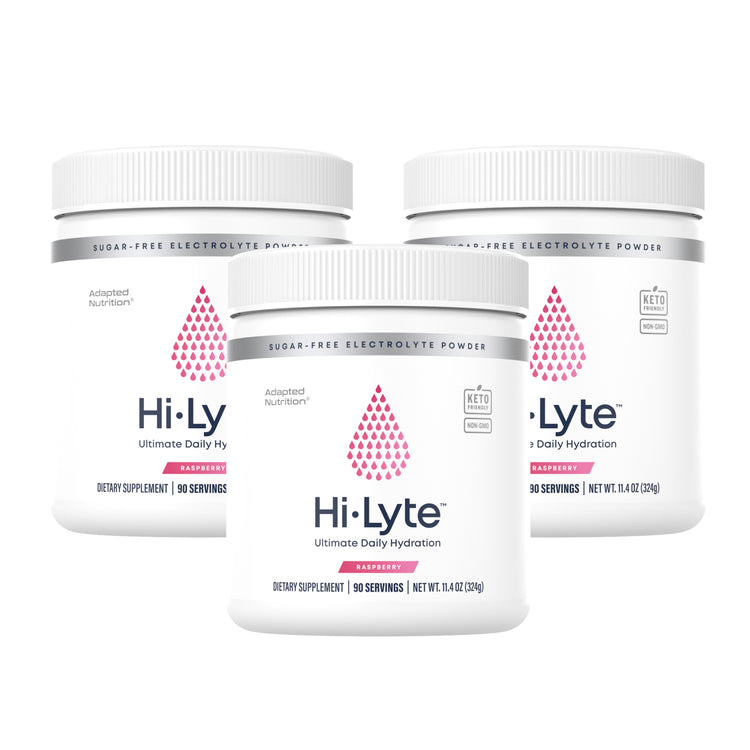 PRODUCT REVIEWS
Customers Love Adapted Nutrition
Customer Reviews
04/04/2022
Arthur B.

United States
Ordered by mistake
I like the K1000 better as it has a higher level of potassium per serving. The hi-lyte also taste artificial like crystal light.
08/05/2022
Krissy C.

United States
Great
Hydrates my senior father, he likes the taste, and works well with his diabetes.
cost effective electrolyte powder
I was looking for a more cost effective electrolyte powder to enhance my water and this met all my expectations. Price, quality, taste, hydration. It's my new favorite! Just wish watermelon was an available flavor!
08/05/2022
Kristen C.

United States
No sugar and tastey
I love that this tastes so good and there is zero sugar! Other electrolyte powders normally have way too much sugar. Thanks for making a product that doesn't give me a sugar spike and crash
Intra workout hydration
I'm using it as an intra workout hydration. I haven't notice big difference so far.
02/24/2022
Carlos L.

United States
Hi-Lyte
I can only compare it to Nunn; much better flavor. So glad it's sugar-free! Doesn't dissolve as well as Nunn; also doesn't seem to have magnesium. Good price, I intend to keep taking it!