Keto K1000 - Watermelon
Regular price

$39.95

Sale price

$33.96

Unit price

per
Who is it made for?
Keto K1000 was designed specifically for people on a keto diet and may be the highest potassium Electrolyte Powder available. K1000 was designed for powerful hydration that helps to promote endurance, eliminate cramps and may help  eliminate Keto flu! The best part about this complex is there is NO maltodextrin or sugar – it's just straight electrolytes in a watermelon flavor with a touch of stevia. Maltodextrin is a white powder made from corn, rice, potato starch, or wheat. However, maltodextrin's glycemic index is higher than table sugar, ranging from 106 to 136. This means that it can raise your blood sugar level very quickly.   Keto K1000 does not contain maltodextrin.
What are the Benefits?
COMPLETE NUTRITION -

 

Complete mineral and trace minerals drink with 1,000mg of potassium. Delicious Watermelon taste.
NO ADDITIVES -

 

There is NO sugar, calories, maltodextrin, GMO's, or gluten.
PEAK HYDRATION & CELLULAR ENERGY -

 

Electrolytes are needed for cellular energy, muscle, and nerve function. This drink may  help you replenish and rejuvenate your cellular energy so you stay hydrated.
POTASSIUM RICH

 

-

 

This complete and balanced, soluble electrolyte powder gives you 1000 mg of potassium per serving size.  Our bodies need 4,700 mg of potassium citrate each day and many people only get a fraction of this in their diet. You'll also get the other key electrolytes in perfect balance.
What ingredients are used?
Ingredients include balanced ions of magnesium, sodium, chloride, and sulfate.
When should you take this product?
This product can be taken at any time including in the morning during intermittent fasting as it will not kick you out of ketosis. One serving per day is the recommended allowance but you can take a maximum of one serving of K1000 every four hours up to 3 servings a day.
How do I use the product?
Try half a serving of Keto K1000 to make sure you don't have a potassium sensitivity and the product is well tolerated. One scoop is the recommended serving of Keto K1000 per day. You should not take more than one serving of Keto K1000 every three to four hours or three servings total per day.
Please Note: Labels may vary.
Who is Keto K1000 - Watermelon for?
What are the benefits of Keto K1000 - Watermelon?
What are the Ingredients in Keto K1000 - Watermelon?
How do I use Keto K1000 - Watermelon?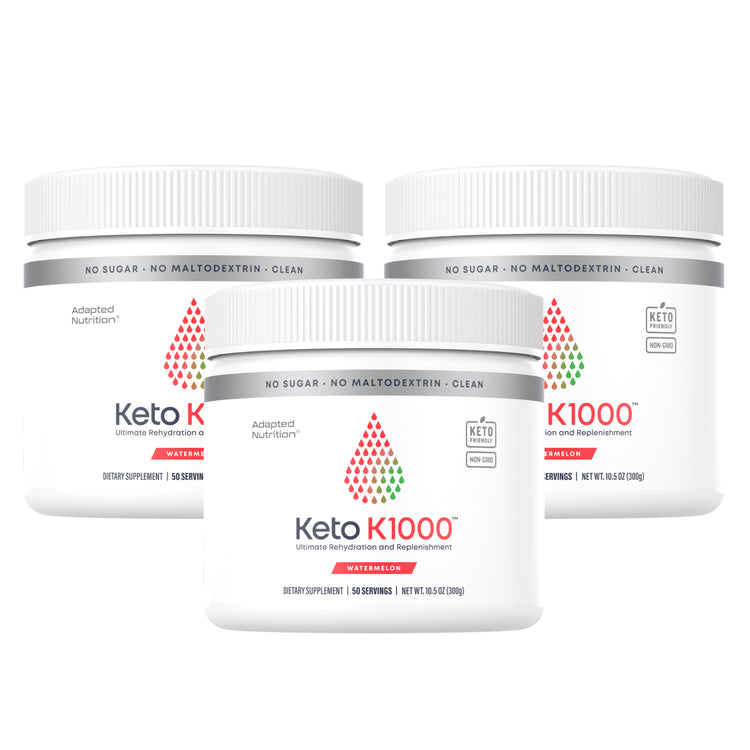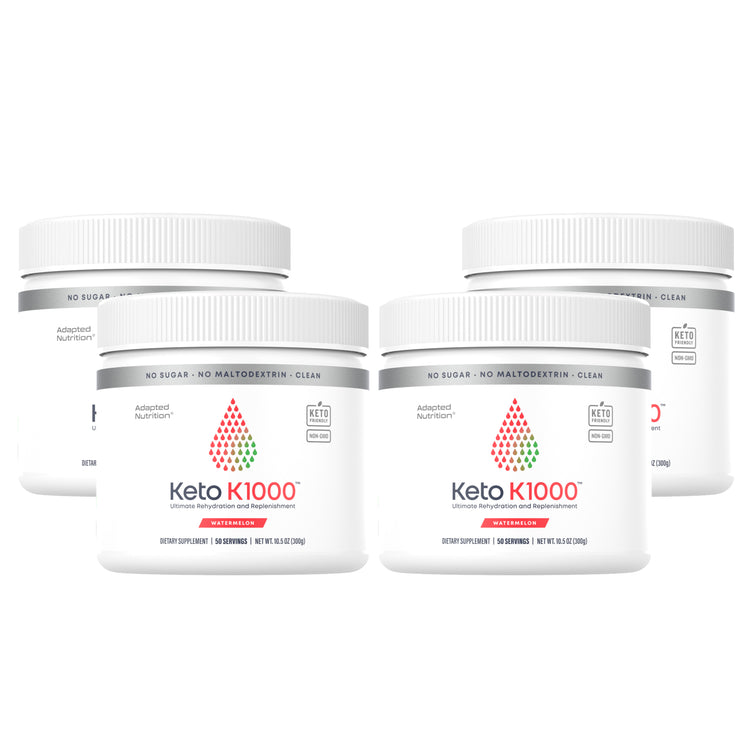 PRODUCT REVIEWS
Customers Love Adapted Nutrition
Customer Reviews
Great for keto
It's a very good power for keto. Lyle McDonald recommends keto dieters get 5000mg of sodium, 1000mg of potassium, and 300 mg of magnesium. This keto powder helps a TON with the potassium and magnesium part. Though these are just guidelines IF you aren't getting enough nutrients from your diet. Potassium is quite hard to get since it's mostly present in carby foods, but please be careful. You should always carefully watch how your body reacts to every couple hundred milligrams of potassium. You wouldn't eat 5 bananas in one serving, would you? So for goodness sake do not just entirely down an entire serving of this in one sitting. A serving of this lasts me my entire work day + my lunch, but if you do drink too much, always hydrate with water. The more you are on the diet the more accustomed you'll be to supplements and the amount your body needs.
Get it. It's what you need.
This is the first electrolyte powder I have tried but it tastes great and it works. I was having horrible leg cramps after starting a low carb diet and I didn't want to take supplements. I only drink water and coffee and generally don't like flavored beverages but I really don't mind this. I chug it before my coffee.
06/22/2021
Linda D.

United States
Sold For Life
I Love Keto K1000!!! I Can Put It In Anything; It Is Unflavored And Dissolves Instantly. I Don't Ever Plan To Stop Taking It...
02/10/2021
Diane C.

Canada
Good but pretty sweet
Helped with muscle cramps but I found the raspberry lemonade on the sweet side. I add a squeeze of lemon juice to mine
Perfect keto support!
Really helps fight keto flu symptoms- I never feel groggy, nor do I get a headache while using this product. It totally gives me energy and makes me feel great! It's the perfect supplement when starting keto and continuing on the diet. I'd even use this without the diet as it totally makes me feel great.
06/28/2021
Deidra B.

United States
Really Like the Potassium Level and other Minerals in this Product
I am following a low-carb diet. One potential problem is not getting enough potassium. I had watched a video previously that stated that if you are experiencing low energy, brain fog, and generally feeling "off" it could be symptoms of low potassium. For a few days, I found myself with those exact symptoms. I thought a lack of potassium was the issue. I ordered Adapted Nutrition's Keto K 1000. Upon arrival, I took a scoop mixed with water and drank it down. Within a few minutes, I felt better. Which is also a symptom of lack of potassium - the immediate feeling of relief after taking it. I ordered an electrolyte powder from a different company and decided to try Adapted Nutrition because I like that along with potassium, magnesium, sodium, and calcium there are also ionic trace minerals. I ordered the Watermelon flavor. It tasted fine to me though I have read other reviews that rate that flavor negatively. I will likely order again. I recommend this product